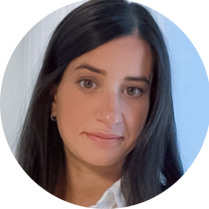 Ph.D. Candidate in Clinical Psychology
Ms. Isabelle Assouline is a Ph.D. candidate in Clinical Psychology at Université du Québec à Montréal. She has a wide range of clinical experiences working in hospital, university and private practice settings. She has received extensive training in Cognitive Behavioral Therapy (CBT) for mood and anxiety disorders, including specialized training for OCD. Isabelle is registered at the Order of Psychologists of Quebec as a doctoral candidate.
Ms. Assouline values an authentic and collaborative relationship with her clients and provides individualized treatment based on each person's needs, goals, and experiences. She fosters an open and safe therapeutic environment, aiming to help her clients navigate life's challenges, develop more effective coping strategies and ultimately, empower them towards meaningful change. She helps adults with anxiety, depression, obsessive-compulsive disorder, difficulties with adjustment, interpersonal relationships, and past trauma. Her therapeutic approach draws from a contemporary model of CBT, integrating elements of Acceptance and Commitment Therapy, Mindfulness-Based Cognitive Therapy and Emotional Schema Therapy, among others.
Ms. Isabelle Assouline is qualified to practice psychotherapy under the supervision of Dr. Wendy Wood; L'Ordre des Psychologues du Québec Permit #11353-09.
We look forward to working with you!