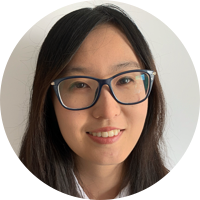 CLINICAL PSYCHOLOGY INTERN
Ms. Jie Chang is a Ph.D. candidate in Clinical Psychology at Concordia University. As a therapist, she aims to foster a safe, open and non-judgemental space for her clients. She emphasizes collaboration, empowering clients to express themselves and explore solutions together. She is currently working as a psychotherapy intern under supervision.
She is cognizant of the role of culture on mental health and well-being, and strives to support diverse aspects of a client's identity and experiences.
Ms. Jie Chang has worked with adult clients in university and hospital settings, and has supported individuals suffering from mood, anxiety, and attentional difficulties. She also received training in conducting cognitive and psychological assessments and recognizes the impact of biological and cognitive factors on mental health and daily life. Her therapeutic approach mainly draws from cognitive-behavioural and psychodynamic therapies, although she may incorporate tools from other therapies based the needs of the client.
Ms. Jie Chang is qualified to practice psychotherapy as an intern under the supervision of Dr. Wendy Wood; L'Ordre des Psychologues due Québec Permit #11353-09.
We look forward to working with you!