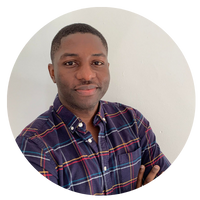 CLINICAL PSYCHOLOGY INTERN
Mr. Fotso Soh is a Ph.D. candidate in Clinical Psychology at Concordia University. He uses an integrative approach in therapy, tailoring a collaborative process to the unique needs and understanding of the individual. Emphasis is placed on a therapeutic environment that fosters acceptance and self-empowerment using a warm, supportive, and collaborative style. He is currently working as a psychotherapy intern under supervision.
Mr. Fotso Soh has experience working in various environments, including community, university, and hospital settings. He helps individuals who feel anxious, depressed, have difficulties adjusting to new roles or environments, difficulties in interpersonal relationships, and navigating past traumas. He uses a science-based integrative approach which often draws from elements of different frameworks including psychodynamic therapy, cognitive behavioral therapy, mindfulness, and existential humanism.
Mr. Fotso Soh is qualified to practice psychotherapy under the supervision of Dr. Wendy Wood; L'Ordre des Psychologues du Québec Permit #11353-09.
We look forward to working with you!