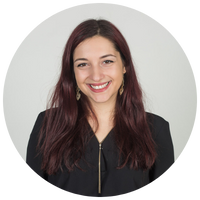 STUDENT IN CLINICAL PSYCHOLOGY
Melissa Commisso is a PhD student in Clinical Psychology at Concordia University. She recently completed an M.A. at McGill University in Counselling Psychology. She has provided treatment to individuals reporting with depression, anxiety, grief, relationship and attachment difficulties, as well as low self-esteem. She also helps facilitate mindfulness-based group therapy. She uses an integrative approach that is tailored to her client's needs. Her work is informed by elements of psychodynamic therapy, cognitive-behavioral therapy and schema-based therapy. 
Melissa ensures that her clients are fully seen and heard with unconditional acceptance. She understands that life brings on many challenges that can be difficult to navigate. Her kind and empathic approach allows clients to feel safe to process their feelings and behaviours and encourages them to find new and helpful ways of thinking about themselves and the world.
We look forward to working with you!